Buster Baxter is an eight year old rabbit, whose parents are divorced, and lives with his mother in
Elwood City
.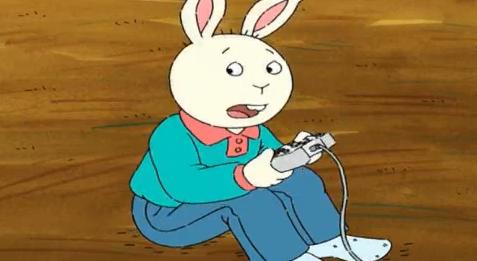 Appearance
Edit
Buster doesn't have any hair, so he has no hairstyle. His main shirt is a long sleeve turqouise shirt, with a pink collar and pink buttons. He wears blue jeans, no glasses, and his red and white sneakers. Buster baxter is a Rabbit.
Since Buster's parents (Bitzi Baxter and Bo Baxter) are divorced, Buster lives with his mother (Bitzi Baxter) in Elwood city. Buster sometimes goes on trips with his father (Bo Baxter) who is a pilot. Bitzi Baxter is working for the Elwood City Times, and newspaper company in Elwood City.
Buster Baxter's best friend is Arthur Read.
Other friends include:
Alan (the Brain) Powers is one of Buster's friends and is in Mr. Ratburn's class along with Buster. Alan (the Brain) Powers is the smartest kid in the class. Alan (the Brain) Powers and his mom own the local ice cream shop. Along with working at the ice cream shop, Alan (the Brain) Powers is involved in many other things, including the soccer team. The Brain is also a very good soccer player, him and Francine Frensky once got accepted into the "A" team, the best soccer team in Elwood City. Alan (the Brain) Powers is actually one year older than Buster and most of his friends, because Alan (the Brain) Powers was held back one year in Kindergarden because he was a "cryer", someone who is not emotionaly ready to move on to a higher grade
Binky Branes is in Buster's third grade class. He is the the same age as Alan (the Brain) Powers, one year older than Buster and most of his Friends. Binky was held back in the third grade, which means that Binky has been in Mr. Ratburn's class twice. Binky is one of the bullies. He hangs out with a group called the "tough customers". Although Binky is a bully, he likes to spend his time doing ballet, playing the clarinet, and catching butterflies. Binky and his parents went to China to adopt a chinese girl, who is the same age as Kate, Arthur's sister.
Mary (Muffy) Alice Crosswire is Buster's friend but Francine Frensky's best friend. Muffy came to Elwood City when Buster and his pals were in grade 2. Muffy's father (Ed Crosswire) owns the popular car business "Crosswire Motors". Muffy is a good friend, mostly. Muffy can be a total snob, who brags to others because she is richer than them. Muffy's middle name "Alice" is the same middle name as best freind Francine. Muffy has an older brother (Chip) who is in university.
Francine Alice Frensky is one of Buster's best friends, but is the best friend to Mary (Muffy) Alice Crosswire. Both Muffy and Francine have the same middle name (Alice). Francine is a sporty girl who loves soccer, football, and baseball. Francine is the best athlete out of Arthur and the gang. Francine also plays the drums and is an exellent singer, but not at the same time. Francine wrote the famous song for the hit band "U Stink". Francine can be rude and mean sometimes.
Fern Walters is one of Buster's classmates. Fern is a shy girl, but loves to write poems and read ditective stories. Fern has solved some of her own mysteries before. Fern also makes up good scary stories.
George Lundgren/Nordgren is a classmate/friend to Buster and like Fern, is very shy and quite. George has dyslexia, which makes it hard for him to read and write. His classmates know George for being a good ventriloquist, with his giraffe dummy Wally. George's father owns a workshop, and George himself is good in the woodshop. Georges's last name (Nordgren) has been changed to Lundgren after the 11th season. And whenever there is a contest that George is involved in, George always wins (this is a running gag in the series). Buster has once taken advantage of George by taking his belongings (pencil, jacket, tape recorder, etc.).
Prunella Deegan is in the fourth grade, a grade above Buster and most of his friends. Prunella is obsessed with Henry Screever, a parody of Harry Potter. Prunella enjoys yoga andfortune telling.
Sue Ellen Armstrong is in Mr. Ratburn's third grade class along with Buster and the gang. Sue Ellen came to Elwood city in the third grade. Sue Ellen has traveled many places around the world because of her father's job. Sue Ellen has a black belt in tae-kwon-do.
Jenna Morgan is not one of Buster's best friends. Jenna Morgan is a great athlete and has been chosen "Athlete of the year" award from figure skater Michelle Kwan. Jenna has nocturnal enuresis and is lactose intolerant.
Big Brother
Edit
Buster's Mother (Bitzi Baxter) signed up Buster for a program called the "Big Brother/Big Sister Program" for children with no siblings.